Junior Moderator
Thành viên BQT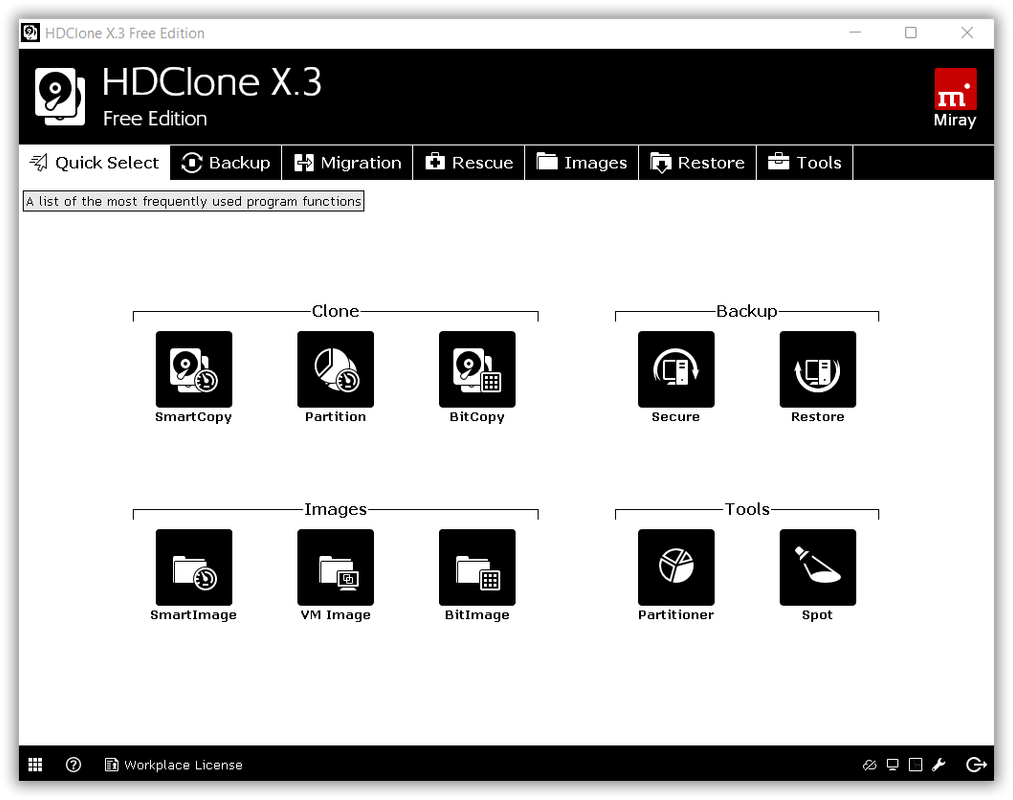 HDClone tạo ra các bản sao vật lý hoặc logic (bản sao) và hình ảnh tệp của đĩa cứng và các phương tiện lưu trữ đại chúng khác. HDClone là công cụ hoàn hảo để sao lưu và tạo bản sao của toàn bộ phần mềm hoặc cài đặt hệ điều hành.
Chế độ SafeRescue đặc biệt làm cho HDClone trở thành một công cụ vô giá để cứu các đĩa cứng bị lỗi và các phương tiện khác. HDClone hoạt động độc lập với lược đồ phân vùng, hệ thống tệp và hệ điều hành. Nó cũng hoạt động với các định dạng độc quyền sẽ không thể truy cập được.
Phiên bản HdClone Professional là một công cụ toàn diện và nhanh chóng với nhiều tính năng đặc biệt để sao chép, tạo hình ảnh, sao lưu và di chuyển đĩa.
HDClone Highlights
Reworked copy Encrypting, compressing, and virtualizing images
SCSI, Firewire, USB 3.0, Intel Matrix RAID
SecureBoot and Bluetooth input devices without Windows
Start yourself and on Windows
Windows 10 support
The features of HDClone Professional
New: CopyEngine Remake
New: Different images
New: Copy dynamic disk
New: Restore images with changes applied
Support RAID Intel Software
Unlock an ATA password
Sped SSD over TRIM
Copy & back up Advanced Format drive
PartitionSelect
New: Boot from SecureBoot and with Bluetooth mouse/keyboard
Start it yourself and in Windows
QuickCompress – quick image compression
Password-protected and encrypted images (AES)
UEFI and GPT support
Miray Virtual Disk: write to virtual drive (both VHDX / VDI)
New: SmartCopy, increase/decrease in size and anti-fragmentation for HFS+
SmartCopy: logical copy
SafeRescue mode for data recovery
Automatically increase the size of NTFS, FAT and ext2/3/4 partitions
Automatic reduction of NTFS and FAT partitions
Instant defragment for NTFS and FAT

Command line interface (CLI)
HotCopy & LiveImage in Windows works

NEW: Reworked COPYEngine
HDClone has never been faster — especially for SSDs

HDClone's CopyEngine, the actual copying algorithm, has been completely reworked from scratch. Having ranked in the top performance range, CopyEngine has been improved with special attention to SSDs, and we've managed to achieve an improvement of up to 65% in performance for single copies of fast SSDs. Having balanced the load brilliantly, the ability to improvise for multiple copies is slightly lower: However, the 8% improvisation level in performance is remarkable.
NEW: Different
images Save images as changes to the original image
This feature allows you to save the made changes to the original backup, creating different backup images with a file size that is usually significantly lower. Similar to the incremental backups of other applications, hdclone's differentiated backups have the advantage of being independent of each other, allowing you to delete them selectively. Consider this template scenario: You can create different backups daily and delete six of the seven backups per week, keeping one backup for each week. In addition, there is no difference in performance when restoring different backups
NEW: Dynamic
disk copy Support copying from dynamic disk to regular disk and RAID
HDClone allows copying from dynamic disks on regular disks and RAID systems. This provides a reliable way to move in the opposite direction, which Windows tools cannot do. This feature is not only for professional users who manage dynamic disk sets, it also allows users to accidentally convert their disk into a single dynamic disk to undo this error by converting their dynamic disk back to a regular disk. Of course HDClone still allows copying sets of dynamic disks and their arbitrary partitions into regular disks.
Intel Software RAID Support Support
Intel 0, 1, 10 and 5 Matrix Storage modes
HDClone can access RAID Intel software (also known as Intel Matrix Storage) in modes 0, 1, 10 and 5 in the self-start version (HDClone/S). The RAID of Intel Software can be used in the same way as conventional hardware RAID systems.
SSD accelerates with TRIM
Read and write faster through TRIM
TRIM commands are used by HDClone to tell the SSD which disk area is no longer needed. In addition to higher copy speeds, SSDs also achieve initial performance afterwards, resulting in higher reading and write speeds.
Enhanced formatting support
for modern regional dimensions
For more than 30 years, the 512 bytes have been standard area sizes one and only for any large PC storage medium. Now, modern drives in the "Advanced Format" can come in different regional sizes (512, 512e, 1Kn and 4Kn). HDClone allows you to create copies and file images between disks with different regional formats and automatically convert NTFS and FAT file systems.
PartitionSelect
Selective copy
Allows to select one or more partitions of the disk for transfer without having to copy all partitions. This saves space on the target drive, making it possible for you to use a smaller target or use extra space for the remaining partitions. The special thing about PartitionSelect is that it transmits the necessary data in a single step, regardless of the size of the partitions or how they are arranged. The copying of partitions, plus other adjustments will be made with almost no additional time required, and HDClone will still operate at full speed.
Self-start (NEW: Bluetooth, SecureBoot) and Windows
HDClone work without operating system
HDClone can be booted from CD/DVD, floppy disk and USB stick, even on the SecureBoot system, so you can even restore images without the operating system being active. With the same interface on both programs, you can easily switch between the self-start version and the Windows program, while supporting the mouse and USB and Bluetooth keyboard.
AES Compression and Encryption Options
file
image
Instead of copying directly from media to media, you can also store the exact image of the media in a file image. Optionally, images can be created in compressed or encrypted form. With QuickCompress activated, this hardly takes extra time to compress. These file images can be stored, stored or transmitted over the network and the Internet. They can be restored 1:1 to a medium that then acts like a live copy that has been created. HDClone can also create dynamic VMDK/VHD images. Such an image can be mounted directly in VMware, VirtualPC and VirtualBox virtual machines.
Miray Virtual Disk (NEW: restore changes)
Direct access to file image
HDClone includes Miray Virtual Disk software. You can use this software to attach file photos that have been created using HDClone (including VHDX / VDI) as Windows virtual drives. This allows you to directly access files and folders in the image without having to restore the image to the previous physical disk. Images can be accessed in read-only or writeable mode, and changes made to the image can be implemented with HDClone's image recovery feature.
UEFI and GPT
Support UEFI BIOS and GUID partition boards
This feature allows HDClone to run on a computer with a new BIOS UEFI. Gpt partitions used for large hard disks (> 2 TB) are automatically identified and reproduced correctly.
Faster with Intelligent Copy Mode (NEW: HFS+)
Faster data transfer
and shorter copy time
HDClone makes logical area (SmartCopy) copies of the FAT, NTFS, HFS+ and ext2/ext3/ext4 file systems in just a fraction of the time it usually takes – delivering comparable results. For example, SmartCopy can copy the entire windows XP basic settings in less than 20 seconds.
Increase the size in flight (NEW: HFS+)
Adjust the file system to a larger target quickly
HDClone can increase the size of your FAT, NTFS, HFS+ and ext2/ext3/ext4 partitions automatically during copying.
Reduce size on the go (NEW: HFS+)
Adjust the file system to smaller targets on the go
HDClone can automatically reduce the size of your NTFS, FAT, and HFS+ partitions while copying. This allows you to adjust the partition size during copying or moving to smaller media. Perfect for migrating to an SSD (usually smaller).
Quick Anti-fragmentation (NEW: HFS+)
Makes NTFS, FAT, and HFS+ partitions faster while copying
HDClone can perform perfect anti-fragmentation on NTFS, FAT and HFS+ drives while copying or recovering from file images. This anti-fragmentation requires only a fraction of the usual time, which takes almost no extra time compared to the copying process.
HotCopy & LiveImage
copy and backup during operation
HDClone can now create copies and file images of drives and partitions during Windows operation – even for system drives.
Secure
data recovery Read faulty media in SafeRescue mode
When copying from a vehicle with faulty areas, these areas will be ignored on the first run. Rescue operations will be performed at the end of the process to avoid further damage to the drive.

HDClone X,2 Homepage
HDClone X.3 Features (PDF)
HDClone Professional Edition
ISO file capacity is 47MB
Sửa lần cuối: